Anq up this Diwali!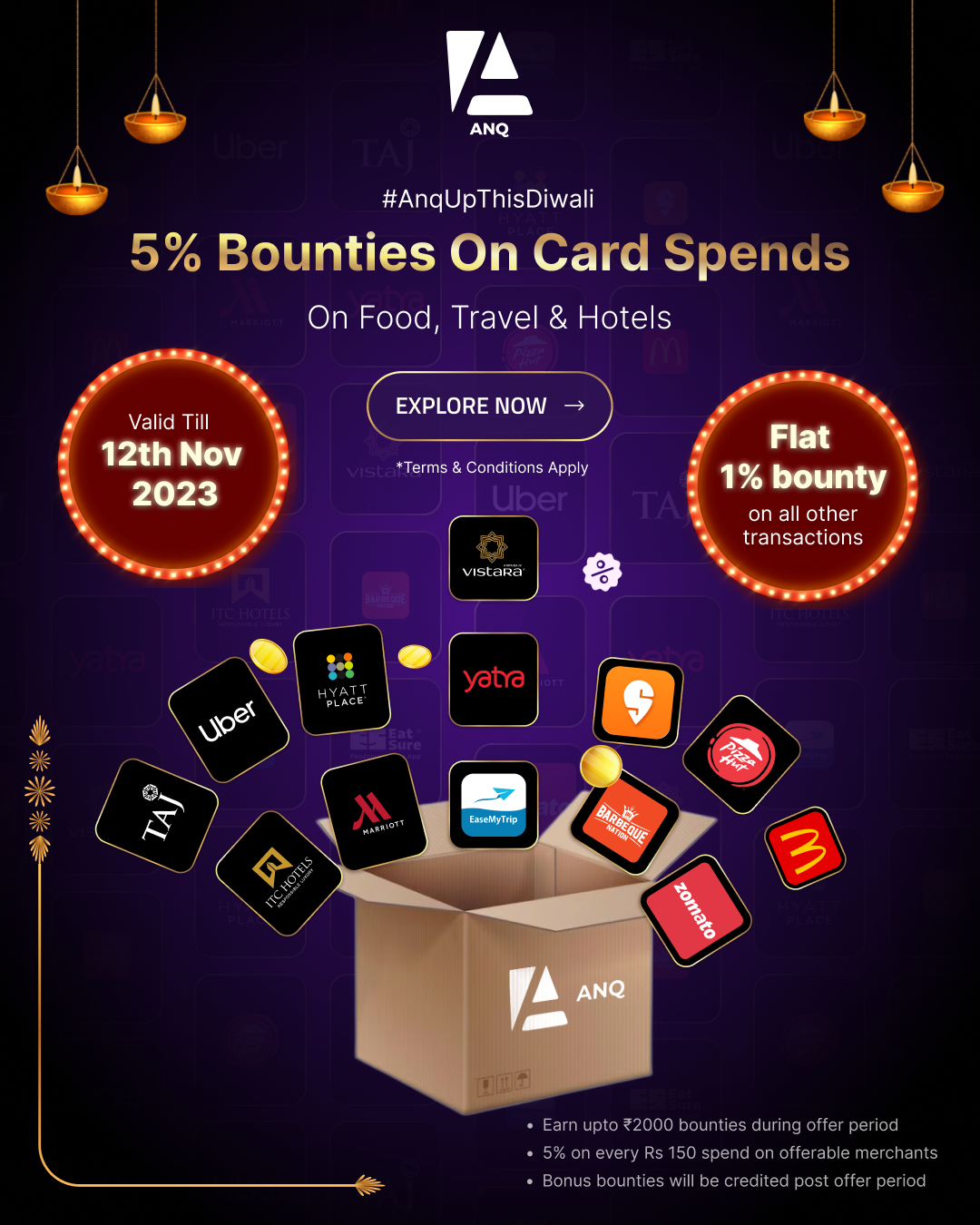 Exclusive Diwali Offer for X Cardholders!
Experience a Diwali like never before with our exclusive X Cardholder offer. Get ready to celebrate this festive season with a bounty of rewards.
Offer Details:
5X Bounties: Earn a whopping 5 times the regular bounties on your X Card transactions.
Offer Period: The offer is valid from November 1st, 2023, to November 12th, 2023. Be sure to make the most of it!
Applicable Categories: This offer applies to select merchant categories, making your Diwali shopping and spending even more rewarding.
Categories include:
Online Ecommerce & Fashion Purchases
All Hotel and Flight Bookings
All Restaurant or F&B Spends
All Jewellery Merchants
Offer Cap: Enjoy the festive bounty up to Rs 2,000 worth Bounties per Cardholder upto the offer period.
Bounty Allocation: Your bounties will be credited to your account within 30 days of the offer end date.
Misuse or False Representation: Please note that this offer is designed to celebrate and promote bounties for Anq X Cardholders. The company reserves the right to cancel bounty allocation in case of misuse or fraudulent activity related to the offer.
Calculation: Applicable MCC codes -
Ecomm transactions MCC - 5699, 5399
Fashion MCCs - 5691, 5651, 5699, 5661
Travel MCCs - 4722, 4131, 4121
Hotel MCCs - 5813, 7011
Foods MCCs - 5814, 5812
Jewelry - 5944
You ordinarily earn 1% in multiples of Rs 150 spent. Therefore, in this festive offer, you will be earning 5% in multiples of Rs 150 spent.
For example, if you buy a phone for Rs 15,000 using the X Card, you will get straight Rs 750 worth of Bounties. If you buy a phone for Rs 14,000 using the X Card, you will get Rs 697.5 worth of Bounties.
If you buy a phone for Rs 60,000, since you have hit the Rs 2000 cap at Rs 40,050, you will get 1% on the remaining balance, for a total of Rs 2197.5 worth of bounties.
Disclaimer - Ecomm transactions are any online merchandise purchase on ecommerce sites like Amazon, Flipkart, excluding but exclusion not limited to, groceries, utility payments, voucher purchases, wallet transactions etc.
This Diwali, make your celebrations extra special with Anq and the X Card.
Happy Diwali!